Ofuna Kan'nonji
Official Name
Muga sozan Ofuna Kan'nonji {pronounced moo-gah-so-zan oh-foo-nan kan-non-gee}
Religious sect
Soto (Zen) sect, Buddhism
Founded
in 1961
by a voluntary organization
Founding priest
Rosen Takashina {roe-sen tah-kah-she-nah}
Main object of worship
Statue of Kan'non (Avalokitesvara in Sanskrit)
Address
91 Okamoto, Kamakura, Kanagawa 247-0072 (show route from current location )
Location
200 meters west of Ofuna Station
Time needed to get there
5 minutes
Admission
JPY300
Open
9:00 - 16:00
Phone number
0467-43-1561
Restrooms
Available
Historical Overview
Constructed only recently in 1960, the Temple is apparently of less historic value than others in Kamakura. With its bright color and size, the bust statue of Kan'non stands out in the open air on the top of a hill and can easily be viewed from the train windows running on the Tokaido Line. Passengers from Osaka and other western Japan visiting Tokyo by conventional trains are relieved to see the Statue because it signals their long journey is nearing an end.

The plan to construct a large Kan'non statue, even larger than Daibutsu (the Great Buddha), was originally designed in 1929 by a volunteer-group. The idea was aimed at spreading the teachings of Kan'non among the common people and purify the society. Kan'non is popularly called the Goddess of Mercy with its female-like, tender-hearted expressions, but has a broad variety of manifestations in shapes and forms, thirty-three transformations to be exact, in order to succor all suffering people.

Unfortunately, however, the construction was suspended halfway through in 1934 due to the Sino-Japanese war becoming imminent, and lack of funds. Pouring money into the construction of a Buddha statue may have made no sense at a time when Japan was desperate to build up military strength, and it was imperative to secure as much fund as possible for expanding armaments. Obviously, the Goddess of Mercy was way beyond politicians' thought, and Japan rushed into the Pacific War in 1941. The statue's framework remained unattended for years.

In 1954, nine years after the end of World War II, an organization to resume the construction was formed inviting Priest Rosen Takanashi (1875-1968), the 71th chief priest of Eifukuji (headquarters of the Soto Sect located in Fukui Prefecture), as the chief and founding priest. The members of both pre-war and post-war organizations were distinguished people actively engaged in the areas of politics, businesses, architectures, sculptures, paintings and so on. Backed by those people's contribution, the beautiful Statue was finally unveiled in April 1961. It had been 31 years since the original plan was laid out.

Rather than elaborating on the Statue itself, I would like to focus on and address the main promoters who volunteered to build the Statue.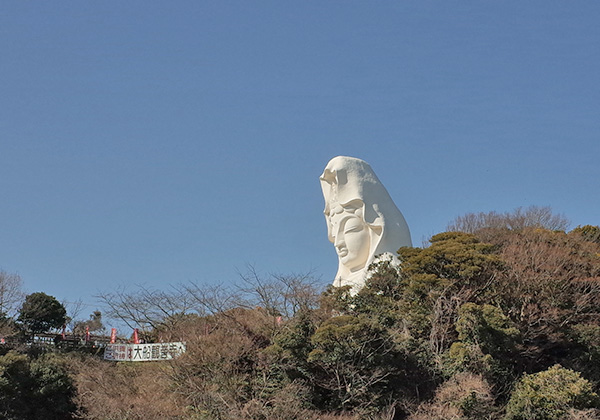 <