History of
Kamakura (4)
Post Muromachi Era
Thereafter, Japan entered the age of civil strife nationwide and Kamakura gradually lost its importance politically as well as militarily. In the mid 15th century, a nearby warlord invaded Kamakura setting on fire and almost all of major buildings were burnt down. From then onward, Kamakura kept on downward spiral becoming a rural and lonely old village. In the Edo Period (1603-1868), the Tokugawa Shogunate gave financial supports to a handful of temples and shrines, but not enough.

In the early Meiji Period (1868-1912), Kamakura was a remote, deserted rural country inhabited only by farmers and temple/shrine people. A photo taken near the Wakamiya Oji main street back then shows most of the area were covered with rice paddies, and totally different from what we see today.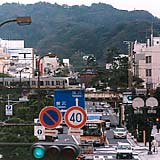 However, the opening of the Yokosuka Line in 1889 (the year when the Eiffel Tower in Paris was constructed) linking Tokyo to Kamakura brought a dramatic change. Kamakura got into spotlight again, not as the capital this time but as a resort town. Celebrities such as writers, painters, artists, doctors, professors and the snob began to build houses here as summer resorts since Kamakura had a convenient beach facing the Bay of Sagami. Population continued to grow and the city is now densely populated with 170,000 people in less than 40 square kilometers. In summer, a multitude gather here for bathing. Today, Kamakura draws more than 20 million sightseers a year and the city is preparing to apply to the UNESCO's World Heritage Committee for the city being registered as a World Heritage Site .